This Post is written in exchange for 2 all inclusive passes to these attractions when I visit late this summer/early this fall. All opinions stated are honest and my own. If something happens and we don't get to visit the attractions, I still wanted to share this with you all !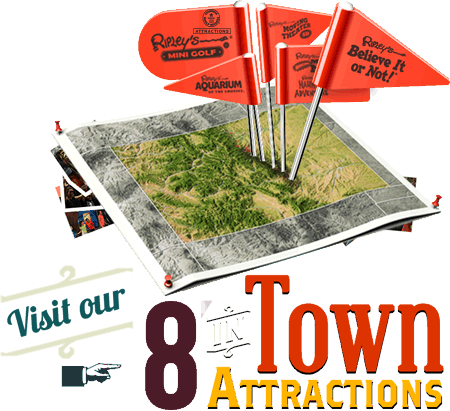 You may or may not have noticed that over on the side bar—–> I have all those upcoming reviews, and one of them later on this year is a trip back to TN to stay at wilderness at the smokies! Of course I could totally just veg out at the hotel and not even have to get out and go anywhere else if I wanted to- because there is plenty to do, but I do like to get around and see different things while I have the chance, and this go around I am hopeful to get to check out the Ripley's attractions. I have actually been to the Aquarium at Gatlinburg once , and the one they have at Myrtle beach once but it has been a while so I am def. looking forward to my visit!
They have 8 separate attractions that are in Gatlinburg! I can remember passing by the majority of them when we were there last fall and I was like wow, I wish we could do some of this stuff but we had already planned out the majority of our trip and didn't have any wiggle room. The 8 attractions are:  Experience eight unique attractions including Ripley's Believe It or Not! Odditorium, our 85,000 sq ft Aquarium of the Smokies, a 5D Moving Theater, our bone-chilling Haunted Adventure, the mind-bending Marvelous Mirror Maze, and our two fully themed mini-golf courses! ( I have a mad love for mini golf. You should see David play.. I should have videoed the last time we played it was funny as could be!)
One thing I always like to share with you when I can is a deal when it is what I consider a simple deal, and I have the chance and well this is one that met those criteria: My Readers Save $3 Off Adult and $2 Off Child Admission to all of Ripley's Attractions in Tennessee.
Use Online Promo Code: USFAMILYGUIDE
Must purchase online.
So if you are heading out to TN this summer you should def use that code if you are planning to visit any of the ripleys attractions and save yourself some money!
If you have visited TN & any of these attractions please feel free to share your experiences with me in the comments! If you haven't and you would want to go to any of these you can share that with me too 🙂